A Stern Search: Looking for My Father (Paperback)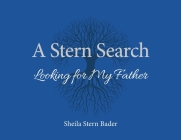 $23.99
Not on hand, usually available within 1-5 Days
Description
---
A Stern Search: Looking for My Father
Black history in America is interwoven intricately with every religion, country, and culture of the world. A Stern Search - Looking for My Father is the story of an African-American woman's rich and diverse religious, national, and cultural heritage. She is black. She is white. She is Catholic. She is Jewish. She is Cherokee. In this book, Sheila Stern Bader uses genealogy in an historical context to enrich the report of 150 years of her family's history. It begins with German-Jewish immigration. It continues in America with Jewish and Catholic religious traditions. It details the challenges of her parents' interracial marriage during a time when miscegenation was a crime in much of America. It unapologetically details the challenges of class differences.
Bader ably unfolds her ancestors' and descendants' lives from the Civil War to the Trump Administration. The Stern family history begins with Bader's great-grandfather, Phillip R. Stern's, migration from Medebach, Germany to Athens, Georgia during Reconstruction. The story moves from the south to the north with her grand-father, Emil Stern, in Chicago, Illinois. The book is personally riveting and intellectually stimulating.
American today badly needs a meaningful conversation that is open and honest about the multi-religious, multicultural, multi-ethnic challenges of living with one another in peace and harmony. We need more than ever to enrich rather than denigrate one another; to uplift rather than disgrace. This book, as it moves from post-Civil War Georgia, to post-World War II Chicago, to post-Obama St. Louis, can be a tool for achieving richness and civility.
Ms. Bader offers a film that is a companion to the book. It is titled, Metamorphosis, and explores half of the 150 years of this book in this her seventy-fifth year of life--focused on her own life and immediate family. It can be viewed at https: //vimeo.com/213345869/7374d21d3e